This year has been different. You can tell by the lack of posts between last year's review and this one.
I'm calling 2022 my year of quiet wins.
Here's the TLDR:
I realigned my expectations for a simpler life
My consulting business made 8x more than last year
My educational products made 8x less than last year
I stopped creating content and gained 0 followers
I fell in love with building things again
My wife took a career break
I travelled lots
Now let's get into the details.
Work
In 2022, I worked on things that:
Gave me energy
Allowed me to focus
Fit with my autonomy goals
Had high financial upside
I'd do for fun anyway
Freelance, Consulting and Engineering
I continued onboarding myself to web3 at the start of the year. I find the blockchain space technologically, societally and culturally fascinating. The move from building marketing sites to decentralised applications has been positive for my engineer's brain. It's been positive for my bank balance too.
While hands-on WordPress work remained off the menu, I found new joy in my old friend as a WordPress Consultant. I like to be involved in product and marketing conversations. I like to think strategically about how things will be built. And I have over a decade's worth of experience in translating business needs into WordPress solutions. So advising engineering teams has been a great fit.
A specific highlight was working with a multi-billion dollar company to help steer their headless WordPress project.
In Q2, I was approached by Origin Protocol. They'd seen my open source work and needed help from a senior web3 engineer with strong front-end skills and Solidity experience. I wasn't looking for anything, but the opportunity to work with a crypto product studio across NFTs and DeFi intrigued me. After a positive project together, we decided to extend.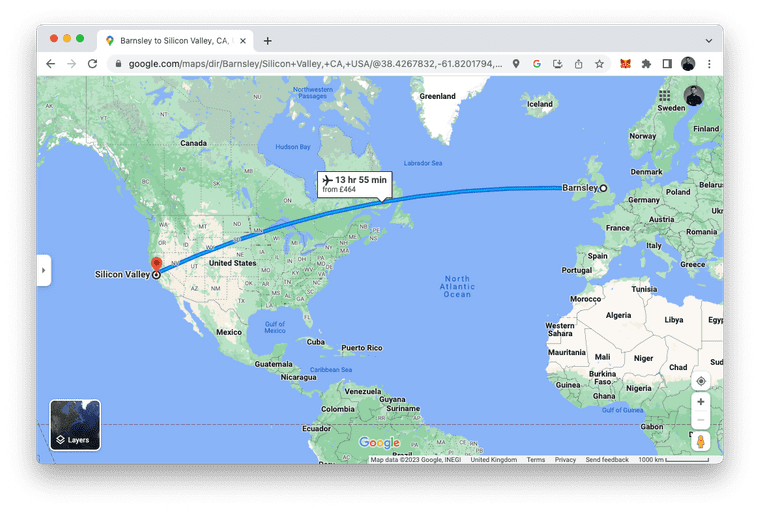 The talent at Origin is incredible. Though I've worked with global companies and big brands before, I still have to pinch myself sometimes. I get to work with people hailing from Coinbase, YouTube, Google and PayPal. From Barnsley to Silicon Valley (remotely, of course). Not bad, I guess.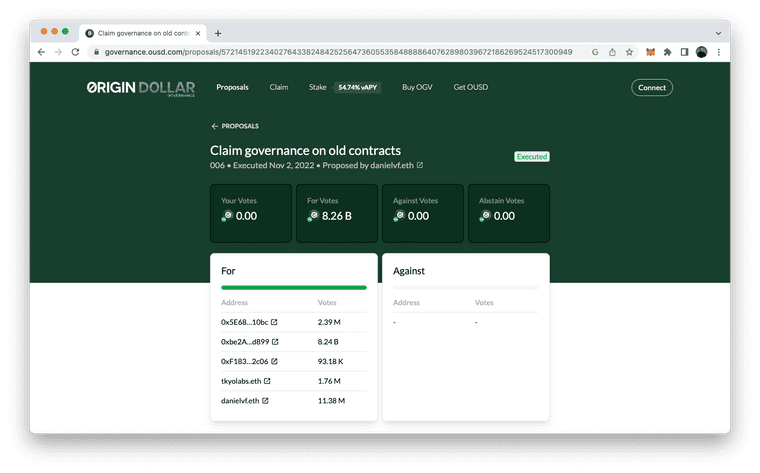 I built the governance portal for OGV, improved Story (Origin's white-label NFT marketplace product) for projects like Roofstock and Pudgy Penguins and owned the development of a new NFT data comparison tool. I've loved building alongside the core team in 2022 and I'm excited to continue.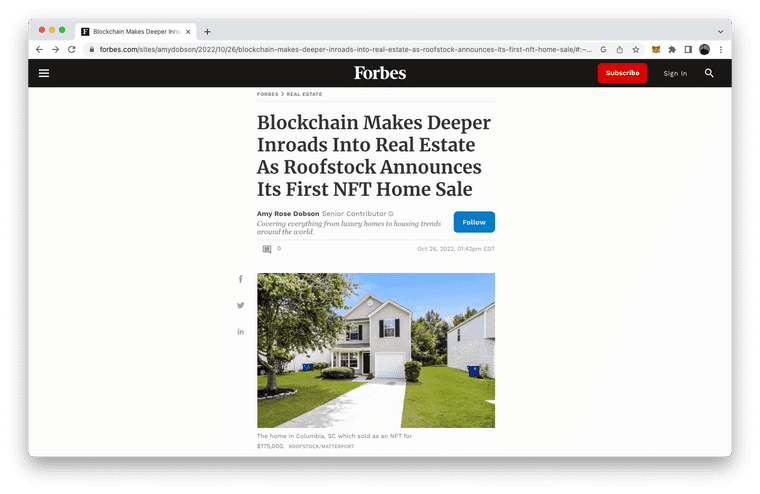 My consulting business' revenue 8x'd this year. While that's not surprising considering I stopped working for 9 months, I made more monthly than I ever have. The decision to take some time off has paid off.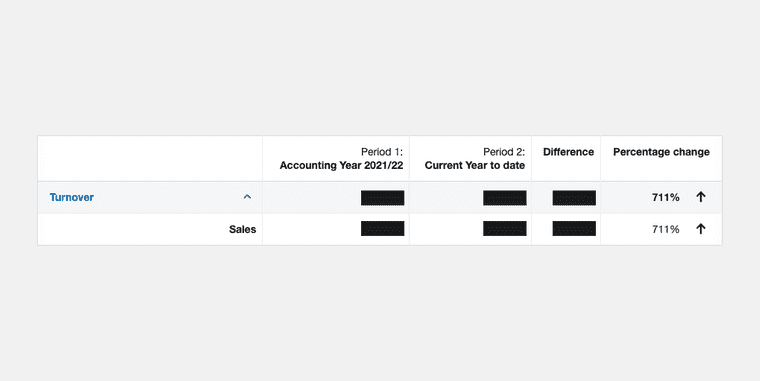 A takeaway: The ability to make a name for yourself in an industry, transcends industries. First, sharpen your skills, then learn how to market them. Because being talented at selling yourself is an incredible safety net.
Overall, I kept things simpler in 2022. This helped me to prioritise the work that drives the life outcomes that I want.
Side Projects
I mainly worked on projects with others while breaking into web3. In 2022, I wanted to build something solo to further my learning. This materialised as the Tiny Winged Turtlez that I set to fly in Q1.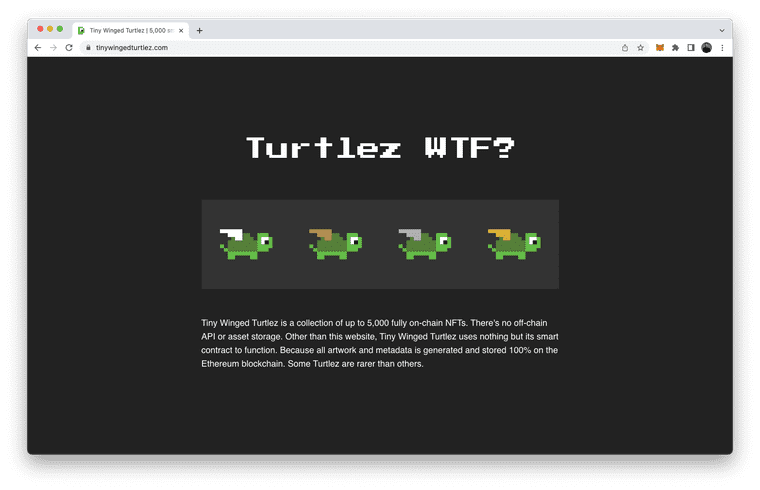 Aside from my wide-ranging crypto curiosity, I became obsessed with on-chain pixel art (see Nouns, Anonymice, and Larva Lads). There's something special about writing a single smart contract that creates and serves art and metadata with zero dependencies. Every NFT minted from the Tiny Winged Turtlez contract will exist unaided as long as the Ethereum blockchain exists. I find that pretty cool.
It was cool to meet others passionate about on-chain pixel art, too. Some of whom wanted to give building their own project a try. So I released the project's source code to Tiny Winged Turtlez holders together with 3 modules of a DIY course, with 4 additional modules to come.
Twitter, Content & Community
I didn't create much content in 2022. My content is usually written because I find writing cathartic. It's fulfilling to know that writing about your experiences can help others. But I find it requires a different part of my brain than engineering work.
Chopping between coding and writing is hard for me. I deal with this by compartmentalising the activities. Whether that means spending half of my day writing and half coding or, sometimes, not coding or writing at all for a while. This year was my break from writing.
Social media is an incredible tool. While I haven't used Facebook in years (the simplicity of Instagram suits me better) I've found great personal and professional value in Twitter. Over the last couple of years, I was writing tweets daily and my follower count grew fast. It proved that I've got a somewhat interesting story and a few interesting things to say. I made great friends and connections. So why did I stop? Because making content felt less satisfying than making other things.
A downside to not sharing much is forgetting to celebrate your wins. I've had big wins in 2022, but I didn't really talk about them until now. This reduced the notification noise but probably didn't propel my endeavours as far. On the flip side, here's proof that you don't need a 24/7 Twitter presence to have a successful year. Quiet wins are happening all around you.
My skills don't seem to have atrophied as much as I thought they would have. The negative of not writing this year was breaking the habit. It's easier to write today when you wrote yesterday. I want to write more in 2023.
While I'm still using Twitter, I've been most active in smaller Discord communities. Shout out to Shiny, in particular.
Educational Products
My book on pricing freelance projects and course on personal websites made just $4,817 in 2022 compared to $40,454 in 2021. Because I obliterated my top of funnel.
It's simple. If you don't market your products consistently, you'll get fewer sales. And my marketing was writing on Twitter. I consciously omitted the work required and it showed. Most of the revenue came from the Black Friday promotion that I sent to my email list. However, the difference in product revenue I made multiple times over in service revenue.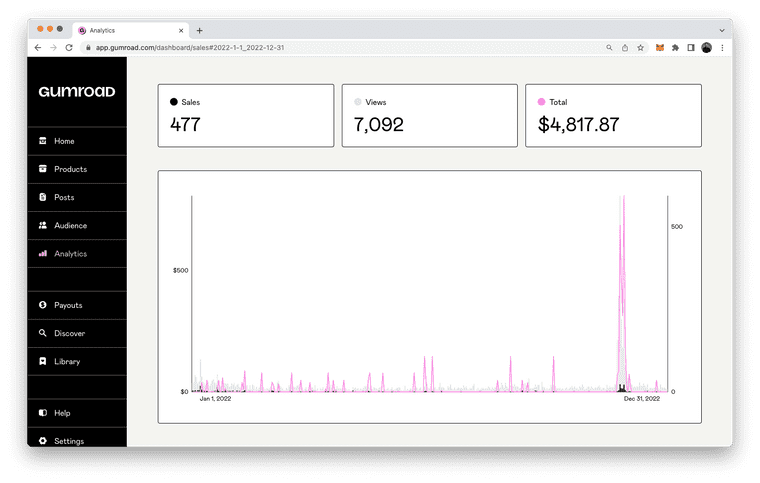 I didn't release any new products like I'd planned to. I want to reflect on my direction before I do. For instance, the branding of my products could be improved and I'd like to migrate off of Gumroad to my own platform.
There's more I can teach people who're looking to learn how to code, break into tech and improve their opportunities online. I have many ideas. Let's see where they lead.
Mentorship
Like 2021, time didn't allow for new mentees in 2022, however, I'm still available to my long-term mentees to help them navigate their career challenges.
I have 10s of people on the waiting list, so I'll consider opening back up (with some adjustments) soon.
Life
Having kids makes your life 10x harder but 100x better. It's a good deal, but nothing can prepare you for the "harder" part. It changes everything from your personal identity to your dynamic as a couple.
We suffered prolonged sleep deprivation in 2022 and it was tough.
My entrepreneurial day-to-day took having 1 kid in its stride, but things got more difficult after having our second. The effort of having 2 kids !== the effort of 1 kid * 2 (or, in other words, the effort required to care for 2 kids is more than double that required to care for 1). This meant I had to realign my expectations of myself.
If you're a driven person who cares about being a mindful parent and partner, here are some simple rules that have helped me that I hope might help you:
Health, family and fun first
High-impact work only
Do less at once
It's been valuable to go back to basics.
Family
Ruby is 3 and Jack is 1. Ruby has just begun preschool and Jack has just started sleeping better. They're starting to look more similar but their personalities are quite far apart. I often sit back and watch them playing together with a smile. They're so funny. It's a blessing to have two happy and healthy kids.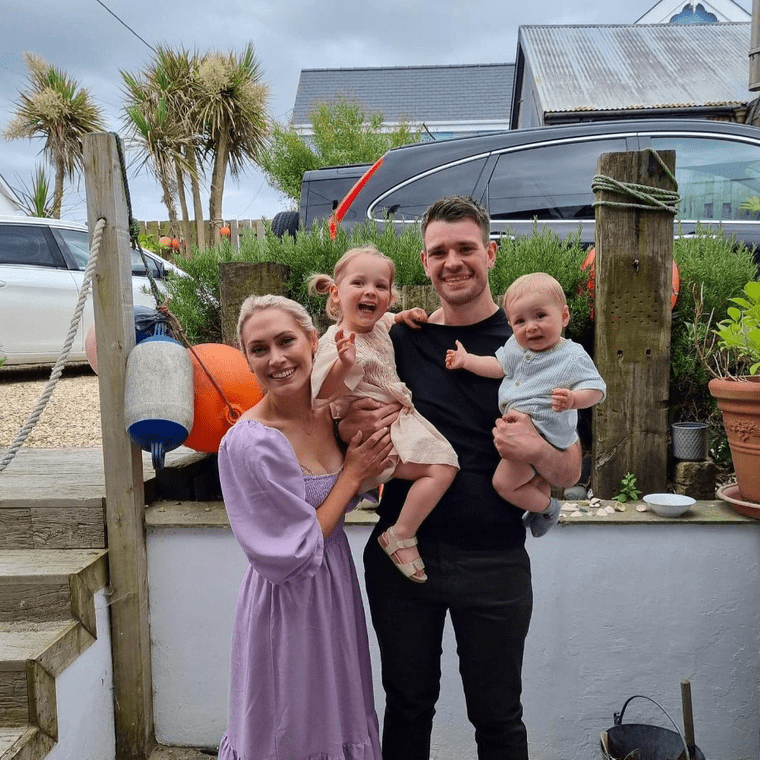 Steph decided to take a career break. Both of us being at home feels like the best way to bring up our kids. We're lucky to have this option and I feel proud to have provided the platform through my work.
Travel
Getting to travel more was one of my biggest wins in 2022. I visited:
My highlights were:
Driving a pair of Mustangs up to the snow on Mount Charleston from the red-hot strip in Las Vegas: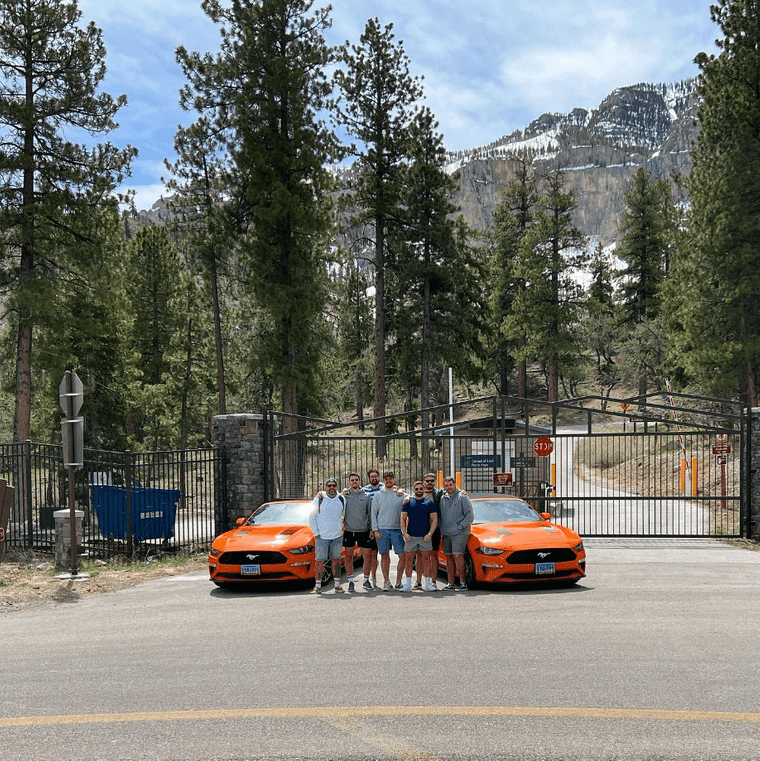 Exploring my favourite place again (New York City) during NFT NYC 2022: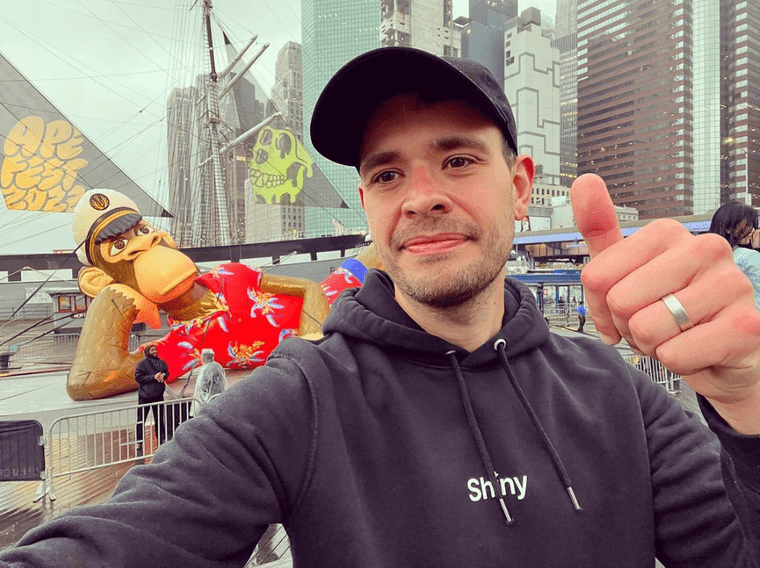 And taking Jack and Ruby back to the aquarium I'd taken Ruby to 2 years prior in Dubai: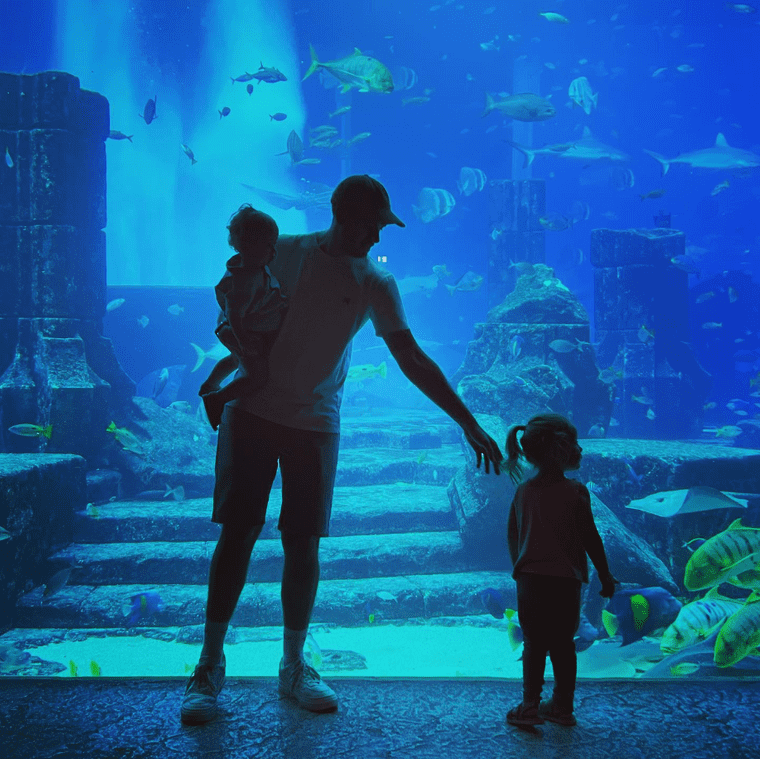 While I prefer to be at home most of the time (having worked remotely all my life), this was a better balance.
Home
No home improvements in 2022. Though, I do have an eye on a garden room.
Investments
If you follow the markets you'll know that 2022 was a terrible year for nearly everything and nearly everyone. I'm roughly 66%/33% in crypto/stocks at the time of writing, though I'm hardly paying attention and I'm mostly in cash.
Following charts and checking floor prices all day will do nothing for your productivity, personal life or mental health. I'm not making many trades right now and plan to ride out the current bear market because we don't need to sell anything.
Not investment advice.
Health
I'll give myself a B- for exercise in 2022. I stuck to 2 (at least) or 3 (sometimes) gym sessions per week and supplemented that with a lot of walking. I find walking easier than lifting weights on little sleep. I generally feel fit and strong.
My weight increased by ~10kg, nonetheless, I'm still holding on to a healthy BMI. I stopped eating as well, lost focus while travelling and exercised less than I'd have liked. I'm making the adjustments needed to get back on track post-new fatherhood.
Wrap Up
2022
I cut out low-impact work in 2022 and concentrated on what's important. I'm thankful for all the good times I've had with my wife, kids, family, friends and colleagues.
This year has been a contrast to the 2 or 3 years that have proceeded it. I might be less outwardly productive, but I'm more inwardly at peace. Those quiet wins, huh?
2023
More of the same would be awesome. I'm happy where things are, but I still have an itch to scratch somewhere. I feel like I'm making a large impact, yet I'm always coming up with new ideas (the best ones come on my long walks).
I've tried a lot of things in my career, but my north star has remained constant. 13 grateful years of working when I want, from where I want, with who I want, on what I want.
Here's to another year of that.
"Be happy with what you have while you work for what you want." — Helen Keller pic.twitter.com/8A4ggOrH9q

— VV (@visualizevalue) June 15, 2020
This is my 4th yearly review. You can read the rest here:
Let me know if you write one!