How to Start a Shopify Side Business and Sell It for 5 Figures
Since I can remember, I've always had an interest in business.
From selling mobile phones in college, to running my own WordPress consultancy for the last 11 years, and everything else in between.
Back in 2014, independent clothing was becoming a bigger thing. Throughout the UK and US, but even more so locally and within my circle of friends.
One day, a couple of those friends and I wondered if we could make our own independent clothing brand.
We started throwing a few ideas around and what started a semi-flippant conversation ended with us registering a company.
That's where the story of how we built, ran and sold our Shopify business starts.
The Business
As soon as we started to discuss this seriously, I could hear the critics already.
Granted, 3 twenty-somethings starting their own "alternative" clothing line wasn't exactly unique, but on paper, we had all the skills to make it work.
Jordan was (and is) an awesome graphic designer, James worked in logistics so had invaluable knowledge in that area, and I could build websites.
With our "what's the worst that could happen" mentality in tow, we got moving.
I like naming things. Straight after the idea was touted, I started coming up with potential brand names.
We discussed one of my ideas that seemed most viable. It was catchy, had a little side reference to a cult film and shortened nicely.
In honesty, we didn't think about this for too long. We came up with something that was half decent and went with it.
Jordan took the name and started to develop the branding and t-shirt design ideas.
James got to work researching suppliers and planning distribution.
We then started thinking about how we would start selling our eventual products online.
Although my eCommerce experience laid with WooCommerce, I'd heard good things about Shopify.
It was up and coming, plus it gave me something new to learn from a web development angle.
The Shopify app made it easier for the three of us to manage the store collectively too.
After we'd made a decision on technology, the team made a wish list of products that the brand could sell.
While hoodies, coach jackets, sunglasses, headgear and other accessories were viable options, it felt like too much too soon.
We knew that graphic t-shirts would be our staple item, so for collection 1, we decided to keep our offering to 6 of these.
With no prior manufacturing knowledge, we deposited the now known to be an incredibly modest amount of £1,000 each (£3,000 total) into our business bank account.
After reviewing Jordan's mockups and making a call on the designs and colourways for the tees, we started analysing the list of manufacturers that James had put together.
It was only then that we realised just how much manufacturing costs!
We made a judgement call on our chosen supplier, who wasn't the cheapest but could take a lot of the process off our hands for a fee.
With my freelancing clients to keep happy, this was fairly essential for me.
Our supplier would, de-tag, re-tag and bag all of the t-shirts for us.
Jordan had the logo artwork nailed down, so we had the hem tags made in bulk from a separate (cheaper) supplier.
We explored the possibility of the t-shirt supplier attaching these for us, but due to the additional logistical involvement, we decided to get this done by a local seamstress once we had the items in hand.
It was extra running about, but we knew we'd have to make some compromises.
Even when you use pre-made t-shirts and replace the labels with your own, minimal stock was a heck of an expense.
The order for the tees came in at around £2,500 for approx. 180 pieces.
While waiting for our products, we'd hold weekly meetings, usually over beer, rum, pizza and sides, to discuss the remaining items on our "for launch" list.
Jordan had made great progress on the website design.
After a few rounds of revision, he handed over to me and I started building out a Shopify site for the first time.
We wanted a custom look and feel, so I coded the theme from scratch.
Doing so allowed me to double down on the benefit.
We were using the best platform for the clothing line
I learned a new skill that I could sell as as service
A large part of the experience when receiving items from an independent clothing line is the packaging.
We studied this quite a lot, in the end going at it from the perspectives of, "what would we like to receive ourselves" and "what's 'cost-effective premium'".
James had done a lot of work in this area and presented various samples to us.
In line with the "cost-effective premium" approach, we bulk-bought black tissue paper and brown paper bags.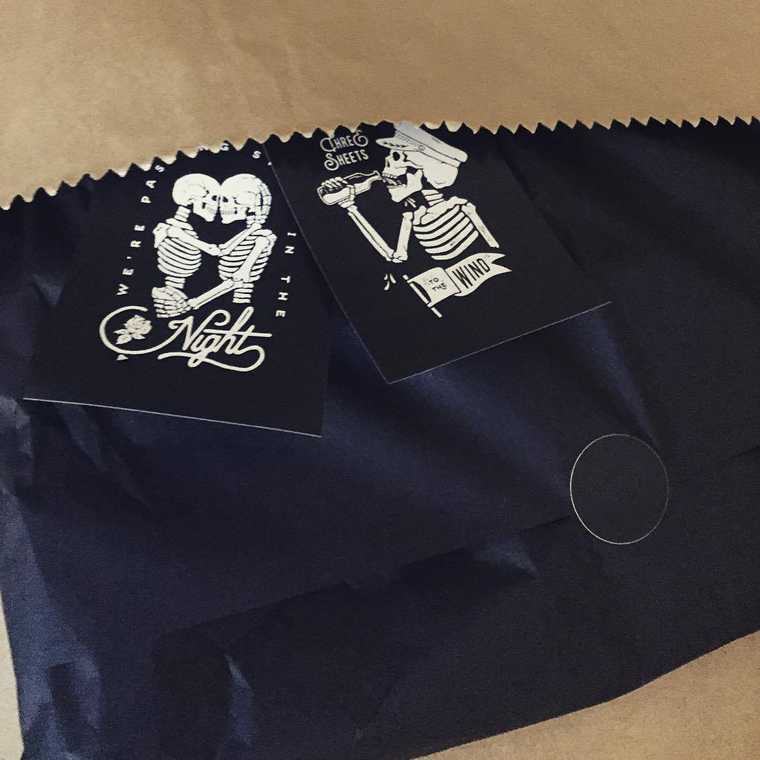 How we packaged orders for shipping.
We branded these with our two custom-made ink stamps manually. A joyous task!
After the website was built and we had our packaging in hand, our stock arrived.
There's nothing quite like feeling a tangible product that you've planned, designed and crafted yourself.
While planning a longer-term storage solution on the fly, I hauled the 12 boxes into my attic.
It wasn't ideal, but it didn't matter.
We were nearly up and running.
How We Ran It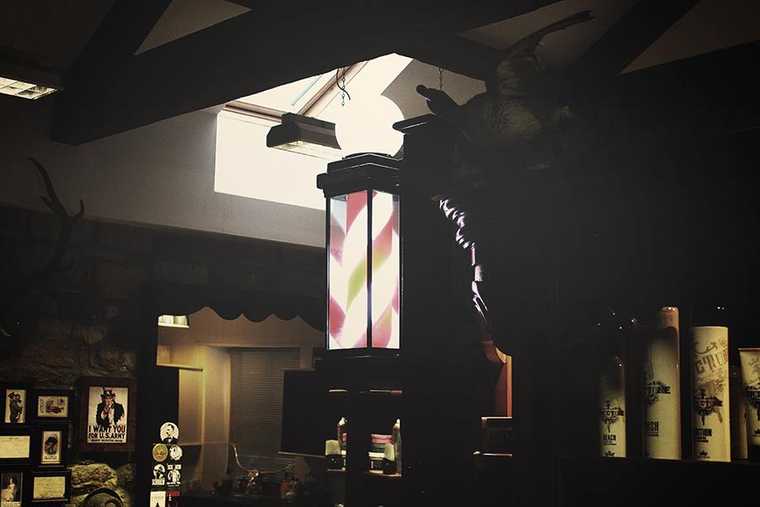 Our first lifestyle photoshoot was in a local barbershop.
We had the perfect set up for this kind of business.
Primarily, we all had few responsibilities at the time which enabled us the time, alongside our "proper" jobs, to make it work.
Secondly, we all had complementary skills and knew people who could help us out when our internal skills wouldn't cut it.
People of note to mention here were Jordan's brother, who had photography skills that we could tap into and the various owner's of local establishments that let us use their premises for shoots.
After our most "on-brand" friend volunteered his modelling services, we held the photoshoot for our first collection in a barbershop at a cost to the business of 3 t-shirts (thanks Dave, Liam and Karl).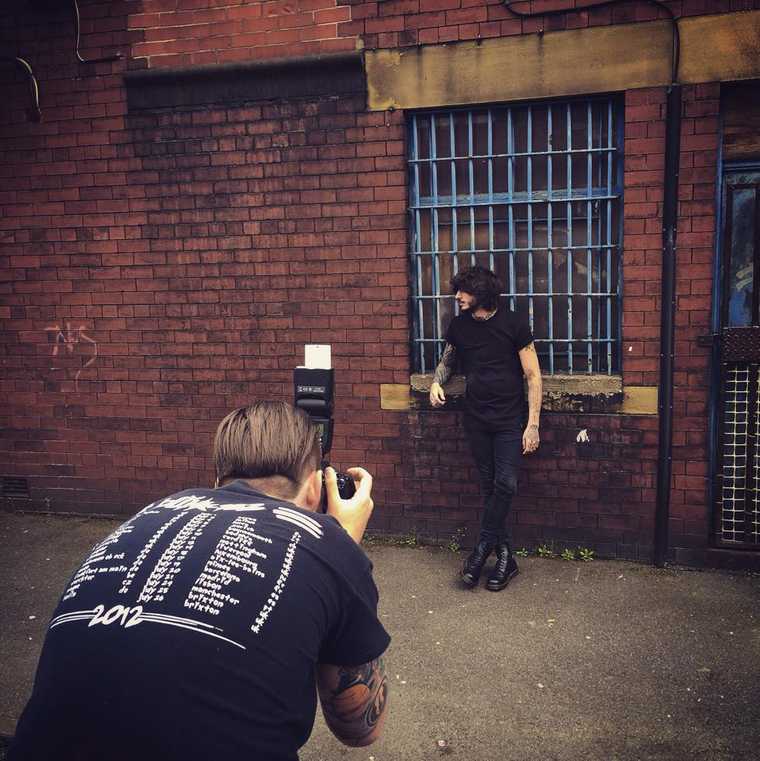 Actually, the set for our first lifestyle shoot was the back of a shop.
We could then upload the products to the Shopify site and open up for business.
After building some initial hype locally, through our mailing list and on social media, the launch was well-received.
We made sales and people liked the products.
Every time the Shopify app sale notification pinged validated our decisions and reasoning.
It felt good.
We continued with the weekend meetings and set up a Slack community to stay in touch from day to day.
A typical week would be spent throwing ideas around on Slack, with an agenda being set beforehand for Saturday's get together.
As design director, Jordan continued to work on things like digital assets and product development.
James continued to run the logistics side and posted out every order that came in from our Shopify store.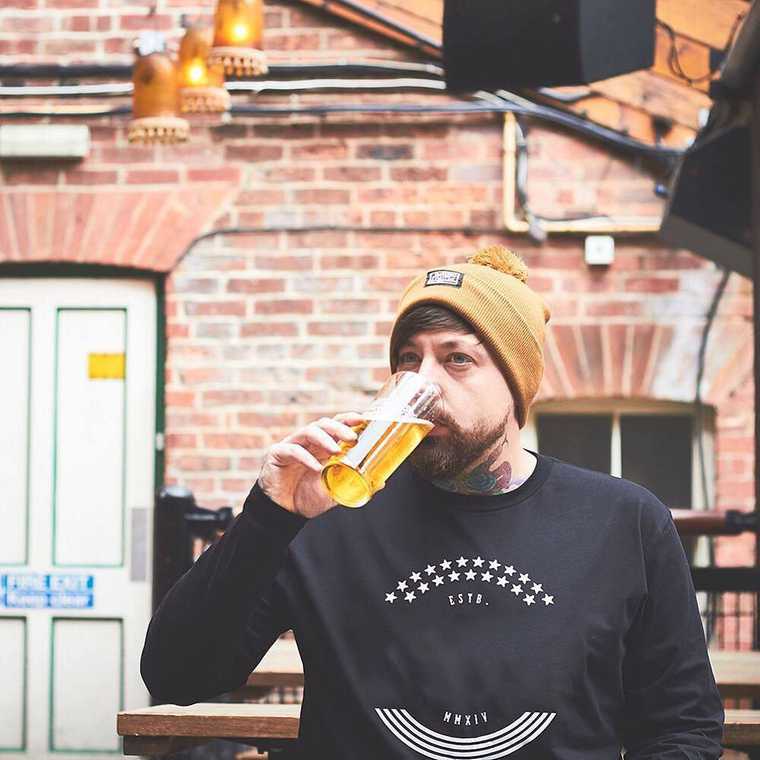 James modelling for the brand.
My role at this stage was to keep the website up to date, run the social media accounts and take charge of our marketing efforts.
Running the clothing line is where I first discovered the power of digital advertising.
How were we going to build our brands awareness outside of our small home town?
After spending time researching various intricacies and tactics, I proposed that we invest heavily in paid advertising to give us a head start.
We saw a solid return on investment for our Facebook and Instagram ads using audience relevant copy and lifestyle photography.
More importantly, this advertising started to build our brand.
People who bought once, often bought multiple times.
The paid ads were an intro to our brand, rather than just the cause of a one-off sale.
Social media continued to be an important platform throughout the lifetime of our involvement with the business.
I learned a lot in this field and saw a solid amount of success.
At the time of writing the Instagram account for our brand still has over 12,000 followers.
We'd continue release products every few months with no set timeline between collections:
Pick collection name/style
Product ideation and design
Order stock
Photoshoots
Upload products to Shopify
Launch via our mailing list and social media
Ship orders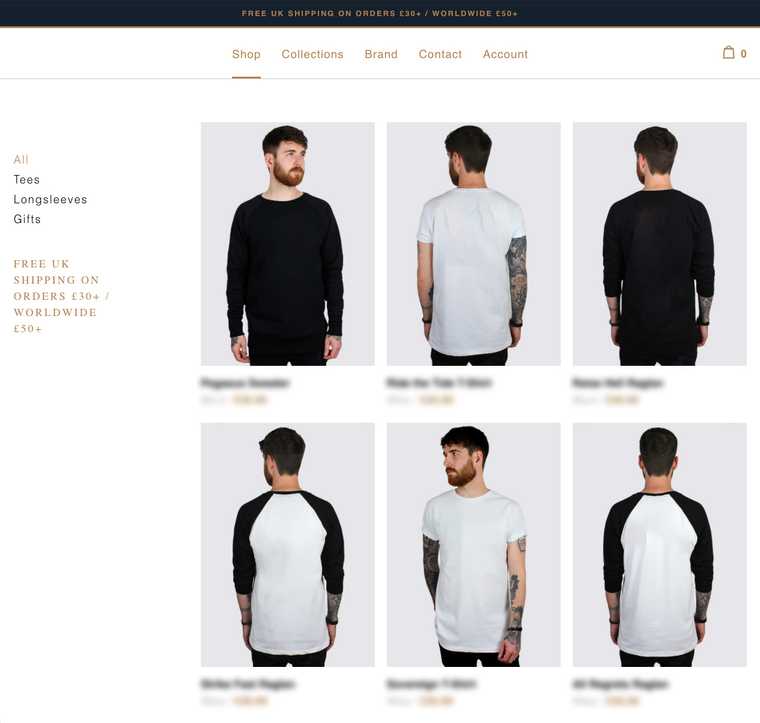 Products on the brand's Shopify site.
For a completely bootstrapped effort, the business ran pretty well, if haphazardly.
We were turning a profit on each product and investing that back into the business for growth purposes.
Paramountly, we enjoyed doing it.
I can't say that our business was a well-oiled machine, but it made a little money and produced a lot of fun.
"Competitors"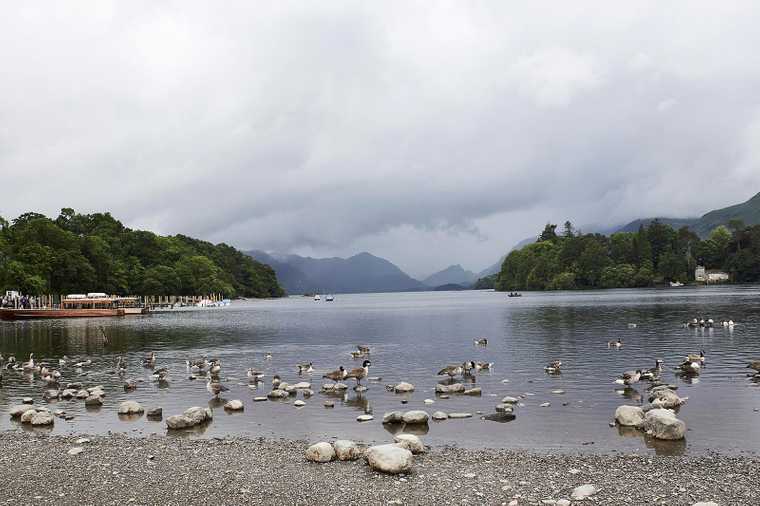 A nature shot from our 4th lifestyle shoot.
It's only when you enter a space that you see the true nature of it.
Some industries build peers up, others want to shoot them down through fear.
We found the independent clothing niche to be an incredibly protective one.
While everything I've ever learned bout marketing has taught me to collaborate, one business in the space took it upon themselves to actively try to devalue our efforts.
Or perhaps it was an attempt to diminish our resolve and get us to quit. We clearly had far fewer resources.
Who knows to be honest.
What I do know is that sending an organised group of people to spam another independent clothing line's social media accounts, when they've done nothing wrong, isn't how I'd act.
While a little shocked at first, we decided to take it as a compliment. They must have felt like we had a half-serious operation with room to grow within the industry.
In reality, we made most of our business-critical decisions while eating Domino's and watching Match Of The Day.
Changes Along The Way
In 2016, James left the business.
As good friends, it was easy for him to be open about this with us; he wasn't enjoying his side of the work anymore.
Jordan and I had more creative roles which came with greater power to influence the direction of the brand.
While there was nothing more important than getting orders sent out to customers, I understood his reasoning.
The logistics side of the business was tough and I suppose thankless at times.
As we started to stock more products, we soon had to move out of my attic.
James set up warehouse space and managed all stock and shipped all orders on his own.
I took over the warehouse/postage runs after he left and I began to understand his feelings even more.
The joy of hearing the Shopify ping soon started giving me anxiety knowing how many orders I'd have to ship.
There were no hard feelings what-so-ever.
Jordan and I bought James' shares and carried on running the business until its close and subsequent sale.
Stock Held To Ransom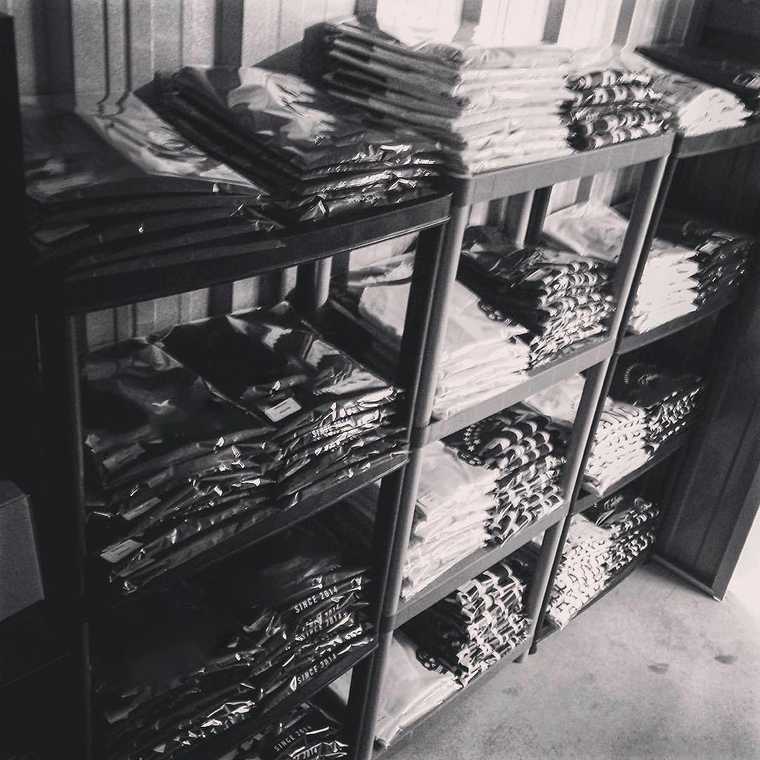 That time our stock got held to ransom in Turkey.
I've given this part of the story its own section as it's equal parts informative and hilarious.
After we'd released a few collections using pre-bought t-shirt suppliers and local printer firms, we decided to spec our own custom-built products.
The hours we spent measuring garments we owned to craft the fit style that we wanted would allow us to increase our brand affinity, and our profits.
Jordan painstakingly learned how to produce a product specification that a factory could use to create our bespoke fit tees.
We'd been in touch with a few factories. One in particular that had a representative who purposely sought us out through Instagram stood out.
The person who we dealt with had a factory in Turkey at their disposal that could produce custom fit garments, printed, tagged and bagged for far less than we were paying in the UK.
"This could be a big step forward", we thought.
Although we were still living collection to collection in terms of cash flow, we made a judgement call to take the leap.
Our thinking was that if we wanted to jump up the ladder in terms of growth, this was the path to doing it.
So after approving an array of shipped samples, we went for it.
We specced up a new collection met the hefty minimum order quantities of our new supplier and sent over £3,500 to a person across Europe we'd never even spoken to on the phone.
At one point, a heap of regret fell over me.
It was only when we received the proof mockups of our garments via email that I felt confident that we hadn't been scammed.
2-3 weeks passed and we received notice that our products were being shipped.
After an unanticipated run-in with a freight forwarder, our boxes were freed from the border and on route to the warehouse.
I got to the warehouse still half expecting the boxes to be filled with air.
But no, our custom fit t-shirts were here! The quantities tallied, the print quality was great and so was the sizing.
We were on to a winner.
The new products sold well and we raised enough money to order another collection and advertise its launch.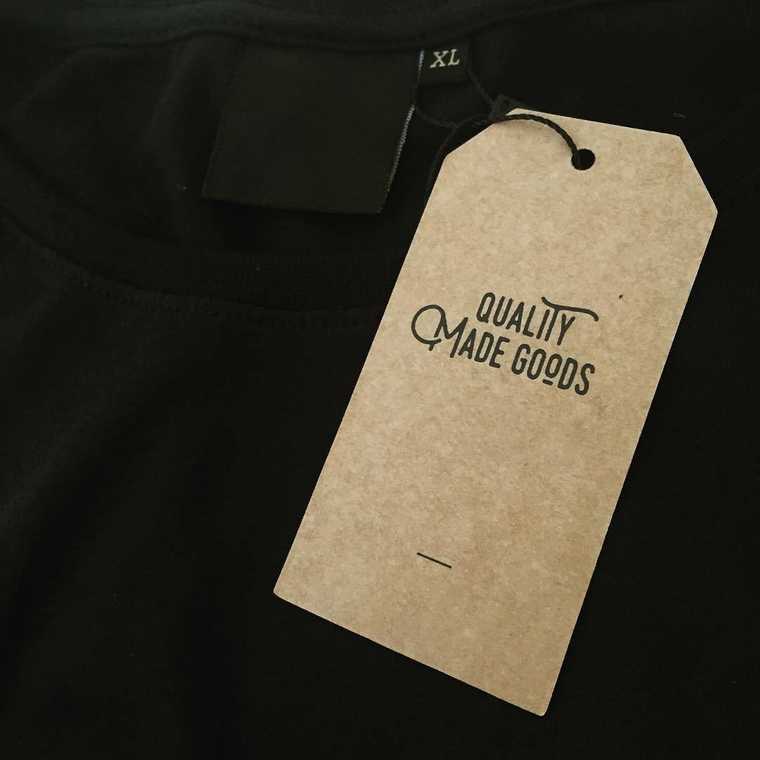 Our first batch of custom-fit t-shirts.
After following the same process through ideation, design, specification to ordering our new collection, my confidence started to lessen with our supplier.
The shipping timings weren't aligning with what we'd come to expect.
"Your goods are en route" was the standard response for around 6 weeks.
Like any Yorkshireman with over £4,000 on the line, I chased our contact like my life depended on it.
The line of communication with the factory's representative who we dealt with had become sporadic and hazy.
We only received put-offs and few answers.
This is when things started to get weird.
Jordan and I began to receive WhatsApp messages from the supposed factory owner's friend.
How they found our personal mobile numbers, I have no idea.
Apparently, the representative we dealt with had cost the factory money.
In a similar way in which we were recruited by them, they'd been acting as a middle-person for other independent UK clothing brands and the bosses at the manufacturers.
The issue was that, although we paid for everything upfront, many of these other businesses didn't.
Two, in particular, owed the rep and as it became evident that they were struggling to recover it, the factory bosses decided to take matters into their own hands.
We were told that the person we dealt with no longer worked with the factory.
A WhatsApp message arrived informing us that British independent clothing company A and British independent clothing company B hadn't paid their bills.
"Sorry to hear that, but this isn't our problem?", we responded.
Soon after, it became clear that they were making it our problem.
Because we were also a British independent clothing company (they seemed to believe we were linked), our stock would be held in Turkey until we assisted in recovering funds from the other companies, or, paid their bills.
I actually started laughing when I read this.
If I didn't laugh, I'd have cried.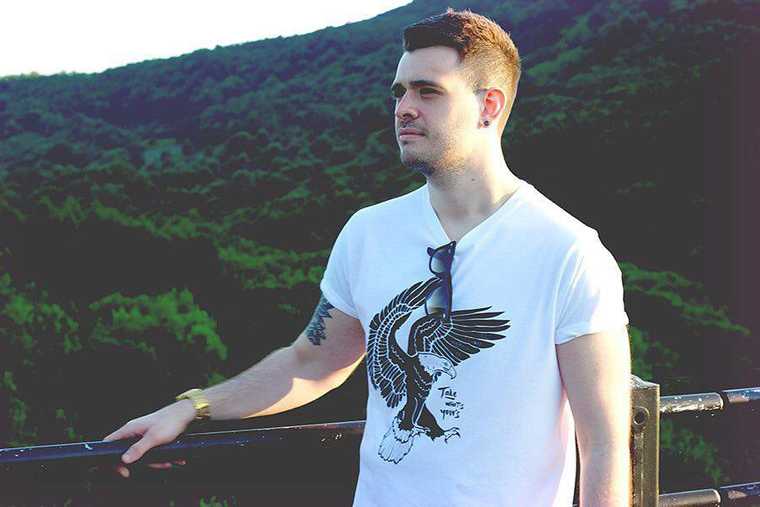 My attempts at modelling for the brand were equally tear-inducing.
Of course, there was a decent chunk of money on the line, but the thought of having to participate in an international wild goose chase flattened me.
We were already working at 100%. We didn't have time for this.
I knew that we'd this stock to have any hope of continuing the business and not losing any money, so, I mustered up the strength to take charge of the situation.
Many emails and WhatsApp to and fro later, after a few stressful weeks, the delivery truck turned up unannounced at our warehouse
Everything that we'd ordered was, thankfully, present.
This put an end to our engagement with the factory.
You might think that this was an "all's well that ends well" scenario; we got the stock, so the business survived.
Unfortunately, it was the eye-opening experience that signalled the beginning of the end.
Winding Up
After stock-hijack-gate, Jordan and I held a couple of painful meetings.
We loved working on the business together, but we'd had a severe reality check.
We were making enough money to cover new collections and ad spends, but there wasn't enough profit left over to grow the brand at any significant pace.
It was a labour of love (we paid ourselves in t-shirts), with a view on eventually being able to increase sales and profit margin through slowly raising brand awareness and ordering larger product quantities.
I could see the potential, and with a cash injection, I'm sure it would have gone further.
But the facts were, we couldn't give the brand the time it deserved anymore.
Not for free, anyway.
We were both making good money from freelancing.
Jordan as a freelance graphic designer and myself as a WordPress consultant.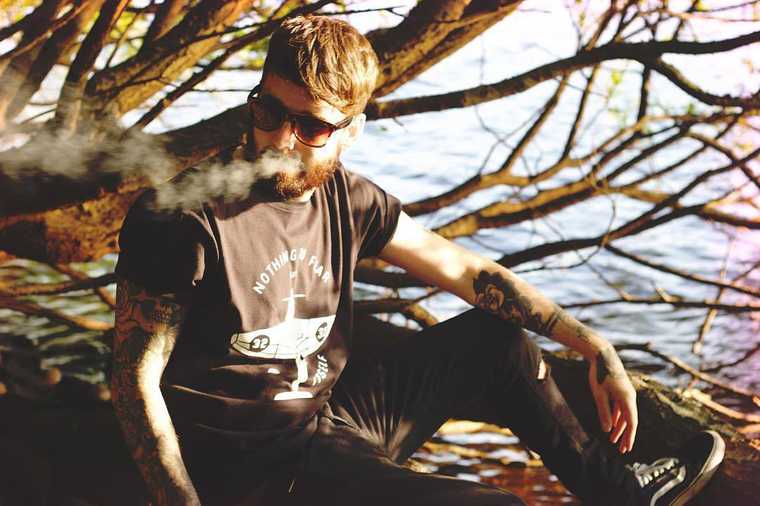 Jordan modelling for the brand. He always was the cooler one.
I started to resent the warehouse runs as it was directly taking me away from high paying client work.
4 years on since we formed the company, as our responsibilities increased, we had less time and it didn't make financial sense for us to carry on running the business together.
We briefly discussed one of us buying the other out and continuing.
While I had ideas (holding no physical inventory enabled via dropshipping and print to order being the main one), it felt like the right time to end it there.
After selling the rest of our stock, we closed the books having each made a modest return on our initial investment.
What We Did Well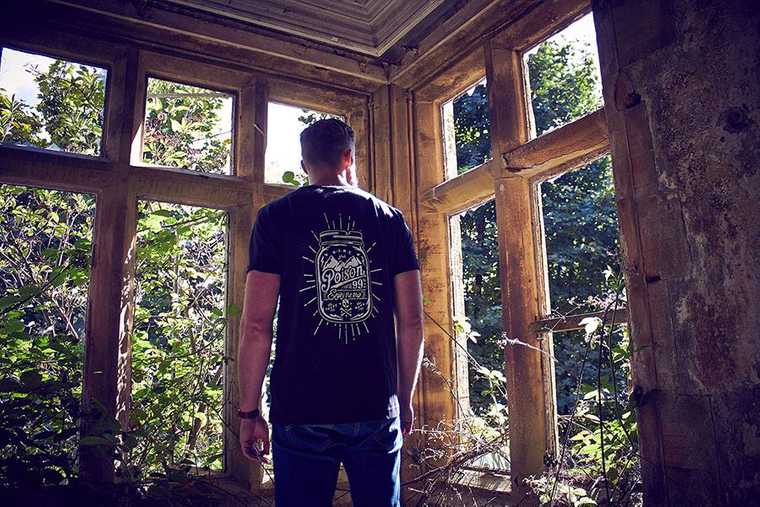 A lifestyle shot from our 3rd collection.
We learned a lot, we didn't lose money, we paid our bills and for a long time, we had fun doing it.
As we discovered of other businesses along the way, this wasn't always common practice.
The learning experiences I gained from our Shopify business are some of the most important in my career so far.
Some things that I feel we excelled at:
Branding
Audience identification
Teamwork
Use of technology
Product design
Digital advertising
Art direction
What We Could Have Done Differently
In retrospect, there were things that we could have done differently.
Perhaps doing these things would have meant we'd still be running the business.
We underestimated the amount of capital we'd need to get started. This put us on the back foot straight away.
An equal cash injection across the board wouldn't have been viable, so we should have perhaps looked to take a loan at a good rate or external investment.
Cash flow stifled our growth massively.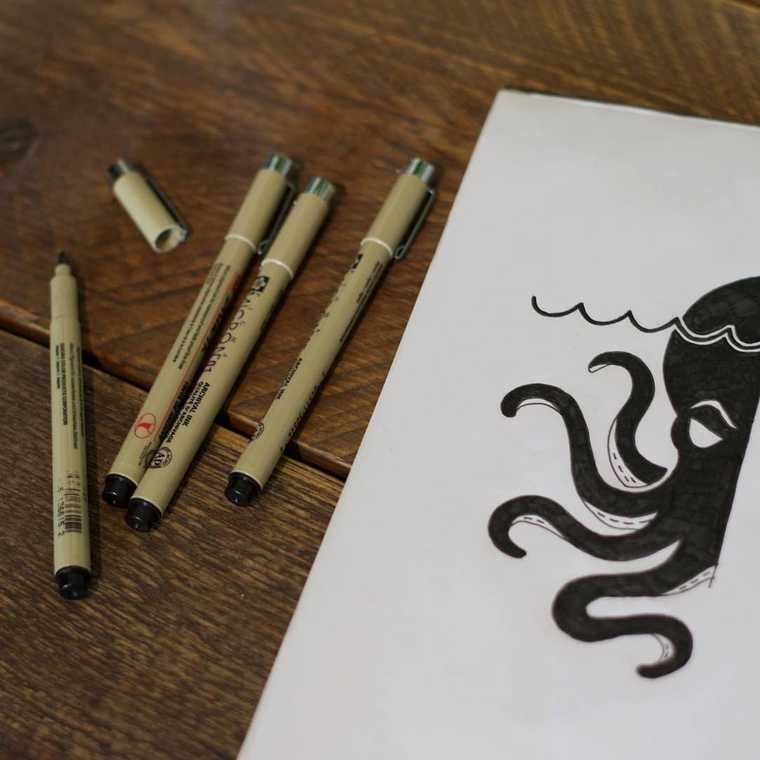 If we had more cash, we'd have been able to release new designs more often.
Our initial product margins were too small.
In our excitement to get things made and our lack of experience in manufacturing, we went with the easiest option.
I dare say that if we had our time again, we'd have looked towards overseas manufacturing sooner; preferentially through people that don't hold stock hostage!
On the topic of suppliers, once we'd decided who to use initially, we should have stuck with them for longer.
Over the first 4 collections, we changed the garment fit 3 times.
People don't respond well to change in this regard and we lost some good customers due to this.
As is seemingly the standard cycle in the clothing industry, we fell into discounting, often heavily, old products to replenish cash flow to order new collections.
After new collections launched, it felt like a sale was sometimes the only way, rightly or wrongly, to rejuvenate interest in the brand and thus get sales.
I don't like the fast-fashion business model and it's not what I wanted us to become moving forward, but discounts felt like the only option for survival at times.
When you get stuck in a cycle of launch, sale, launch, sale, your customers become savvy to this.
People will often wait to get the items that they like at a cheaper price in the future. Because they know it's coming.
If we were to have our time again, I'd hold sales in a far rarer and more unpredictable fashion.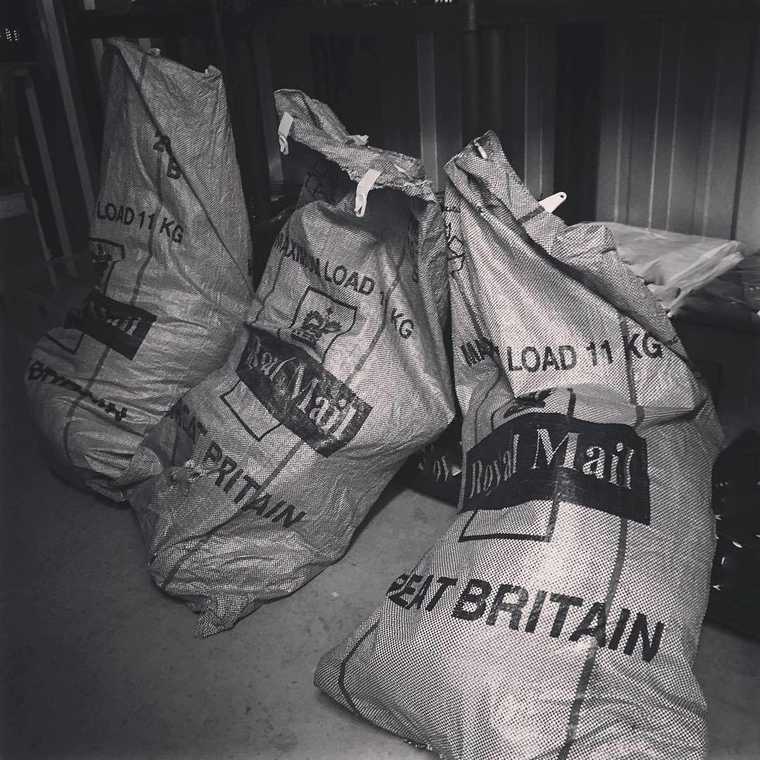 Mail sacks full of orders that we shipped ourselves.
My biggest regret is not seriously revising the holding of our own inventory, warehousing and shipping early doors.
It was clear that this was the biggest bottleneck of the business and the job that we all disliked most.
We could have explored dropshipping more thoroughly.
Having tees made and shipped to order would have allowed us to release more products, more often and retain more time to work on the brand.
My final reflection is, did we really need 3 of us to run this business?
Knowing what I know now, it's a resounding "no".
Our business could have been better streamlined for sure.
But do I regret how we set up at the time?
Definitely not!
It was a major learning experience and a heck of a ride.
Running the brand alongside two of my best friends was one of the most fun periods of my life.
And when it made sense to end it, we did so amicably.
They say that you shouldn't go into business with friends. I say that they had the wrong friends.
The Sale
So how did we sell the business?
It took over a year from the close of trade to selling it.
This might sound odd as most people want to buy a business that has active revenue coming in.
However, our buyer wanted a ready-made brand and eCommerce platform that was already semi-established.
Our dormant business was perfect for them in this regard.
After emptying our warehouse, I started to think that there may be some value in what remains.
"How much would the branding, product designs, garment specs and custom Shopify website cost someone if starting from scratch?".
It wouldn't be a cheap transaction and you'd begin with no brand awareness what-so-ever.
I spoke with Jordan and it was OK'd that I'd try to sell the brand as a package to someone who could carry it forward.
In the first instance, I went to Flippa and Shopify Exchange to list the site for sale using their automated estimates.
It was something like $6,500.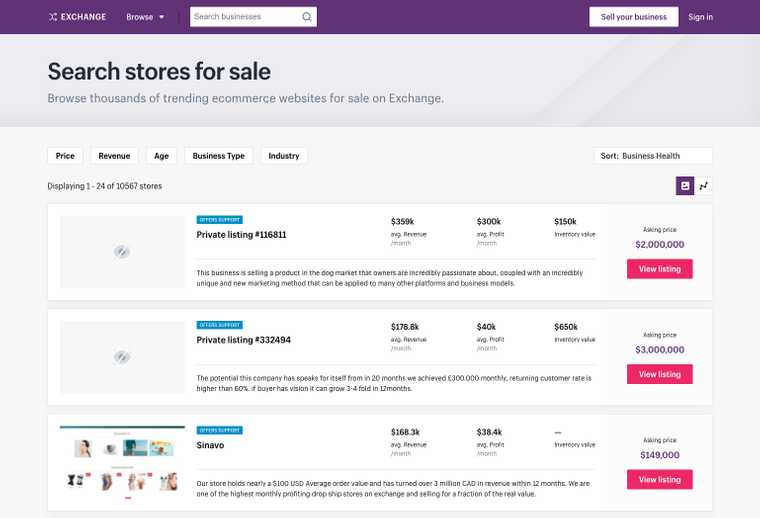 I listed our business for sale on Shopify Exchange.
But the site was only a small part of the package; we had all the branding, all the garment specifications, all the custom artwork that could be used on an array of potential products.
We had a few offers early on, but none came close to the price that we believed all of this was worth.
I made a post on the business' Instagram account announcing that the brand was up for sale in its entirety.
I wouldn't check the account every day.
The first comment that we received from our eventual buyer I didn't see for a couple of weeks.
We started talking and it seemed like a deal had legs.
Their enthusiasm for the brand really impressed us.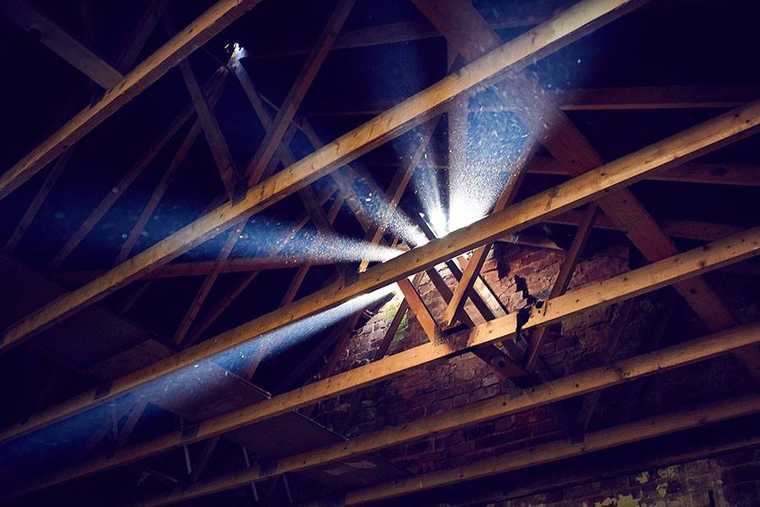 Talk of a sale shone a light on the value that we had created.
I'd video call with the buyer a few times over the coming months to discuss things like, what our direction for the brand would be, what the sales figures were like and how we'd transfer ownership of the domains and social accounts.
After a while, the contact went cold for 6 months.
I thought the deal was dead in all honesty.
Then out of the blue, the buyer resurrected the conversation and was keen to progress quickly.
A handful of calls later, we eventually got the deal over the line for a significant 5-figure total.
It was a good deal for both parties.
Our buyer got the ready-made brand that he wanted; with digital assets of value that far outweighed the price paid.
And we managed to recoup some money for the time we'd invested.
The lesson here is to not let assets lie unused. They could be of significant value to someone else.
At the time of writing, I'm not sure what's happening with the business to date.
We hope it's been well looked after and that the buyer makes every success of it.
The brand was our passion project for a long time, so with the sale, we were glad to see it continue and get some money in return for our efforts.
Conclusion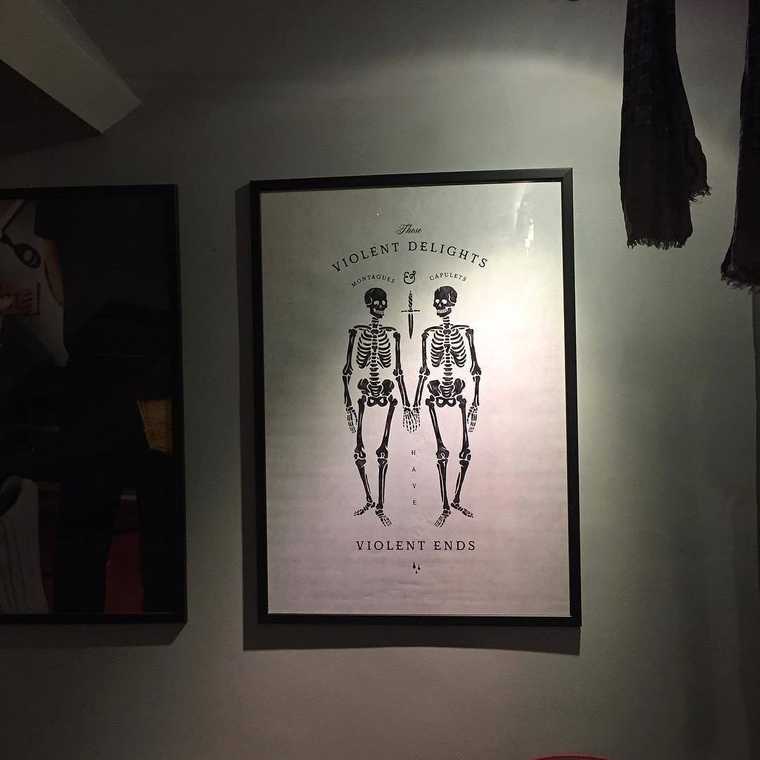 All good things come to an end.
The concluding question that I ask myself with and without hindsight is, "Would I start this business again?".
Then? Yes. It was definitely a positive outlet for me.
Now? In the way we did it? Probably not.
I do have a feeling that I'll have another Shopify business one day. Selling what, I'm not sure yet.
It's a great platform and there are plenty of eCommerce opportunities to go around these days for people with minimal time at their disposal.
The caveat at this stage of my life is that it'd have to run at least 90% automated.
This article was inspired by a similar one from Richard Haine's entitled, How I Created A Company Then Sold It.